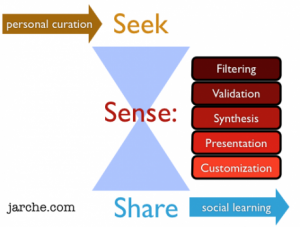 Retrieved from: http://www.jarche.com/2012/07/pkm-as-pre-curation/
Open Learning is different from Open Education? #oped12 #vsmooc12
In the attempt to create an "Open Classroom" I have been reflecting upon what I mean by "Open Education". Most sources like http://www.cyberlawcentre.org/unlocking-ip/2009/materials/Papers/2A_DBrowne.pdf describe Open Education based on Open Content-  resources that have open acces to anyone and everyone.
Open Education seems to include open content and resources and is slowly starting to mention "open learning". I want to focus on the learning.  I am interested in how we can learn in open ways and what aspects of instructional design need to be examined in order to create a foundation for these this learning to occur?
My my participation in MOOCs, my facilitation of #Digifoot12 and my creation of "the OC@ADLC" is based on "Open Learning". These experiences have created my foundation to describe what I see as "Open Learning" Opportunities in k12.
George Hobson wrote about Open Learning in his blog post last week and he motivated me to clarify what I "see".
Has anyone on #oped12 who is interested in Open Learning and, in particular, K-12 Open Learning, got any ideas how we might complement this excellent opportunity to discuss Openness in Education? (Hobson)
Open Learning (to me)  focuses on the pedagogy of learning in an open environment which is facilitated by social media and digital tools.  Open Content/Resources can be part of open learning. However, I believe that more meaningful learning is a result of the creation of new artifacts and development of new open content by the learners. Bringing a "constructivist" approach to "connectivist" ideas I suppose. Open learning is an "extension" of what is learned in the classroom and it encourages higher level thinking and skills based on Bloom's Taxonomy for example.

How can Open Learning in k12 create meaningful learning opportunities?
(Please consider this my first attempt at creating a framework so feedback is much appreciated.)
Like any new subject, learners need to start with basic information, then connect and extend into more difficult applications of the content. This is how we have created our Education system. In math for example, we teach numeracy basics, patterns and geometry in kindergarten and rarely calculus at the beginning.
I suggest that we need to see the integration of social media and social community literacy skills  in the same way.  The skills will be taught all the way up: however, the level of openness in an institutional setting, will be in stages.
Stages and Open Environments in Teaching Social Media Competencies
Age and Grade
Type Of "Open" Environment
Stage 1
Kindergarten to Age 13
Walled Garden – Students open to other students and teachers
Teachers combine completely open options and walled garden options.
Stage 2
Age 14 to Age 17
Transition between walled garden and completely open depending on activity and level of interaction with open world.
Stage 3
Age 18 +
Open Learning
In my opinion, it would be logical to emphasize the competencies in k-age 13 and extend, integrate, specialize and create authentic learning projects from age 14 and above.
As in any educational situation, if a learner if able to demonstrate skills that meet and exceed their level, they can consider being placed in a different stage.
If a Stage 2 or 3 learner collaborates with a stage 1 learner, the "lower" stage takes precedence. (Walled gardens)
These are competencies that need to be developed demonstrated in each stage / environment. It is my belief that the assessment of the competencies should be based on learner peer feedback and evidence of artifact creation/reflection..

Social Media Integration Competencies – k12
Competency
Explanation/Notes
1
Determining Privacy and Security Settings in Social Media
Determining whom interacts with whom, who can "see" content
google search vs Google alert
2
Determining your Digital Footprint
Seven Degrees of Connectedness
What are cookies, Tracking, IP Address, Social analytics
The permanency of Digital Foorprints
3
Creating a Platform
Blogs, Wikis
4
Determining DigitalCitizenship
What are the "rules" of online behaviour?
The rules of social media: K.L.O.U.T. matters: knowledge, likeability, openness, understanding, trust.
Working in collaboration vs cooperation
5
Determining Digital Identity
Who are we online?
Finding an audience – Voice/Tone
Consequences of
6
Examining Research Methods
Identifying Bias
http://wordyard.com/2010/09/14/in-the-context-of-web-context-how-to-check-out-any-web-page.
7
Creating a PLN/E – Personal Learning Network or (Enviro)
Investigating Digital Community
Twiiter, Facebook, Choice of Courses, Who we connect to and why
8
Creating an E-Portfolio
How to choose artifacts, how to distinguish between ePortfolio options
9
Determining Curation Tools
How to choose a tool
SymbalooEdu
Googledocs
ELGG
10
Investigating the psychological implications of social media overlaod
Balance and diversity – SOUL

Instructional Design components to Implementation of Social Media Framework k12:
Open learning in stages, based on competencies which are assessed within a community framework and focused on content creation by the learners – could be the future framework of learning k12.
According and Anderson and Garrison (2004), different types of "interactions" needs to occur, in different ways when discussing online learning. The three main types of interactions are: student – student, student – content and student – teacher. In this framework, the emphasis is on student-student interactions and less emphasis on student – content and student -teacher interactions.  These are huge changes from traditional teacher/content focused online courses.
Some basic guidelines:
To distinguish open learning from a regular "great" online course, is the addition of connections to the outside world and a focus on reflection of the basic competencies.  With the addition of an "open context" students output is influenced (learners think about their audience, review their material in consideration of "assumptions" of others,consider their voice and tone as an author and learn to interact in meaningful ways with peers online including feedback.)
We will learn form and with each other by creating networks, receiving feedback and reflecting on what we have created, to make something new.
Ideas need to be scaffolded in order to facilitate new ways learning and new skills.
The definition of "peer" will change. According to Ito et al, (2010) among youth, peers are most commonly distinguished based on materialistic values – "what we see". In online social environments, "peers" are seen for "what they can do".Collaboration and interaction is based on passion and skill, not what you look like.
Open learning can be offered in face to face classroom environments and online classroom environments. It offers an opportunity to see, "Learning as learning".
Now that I have a framework I can begin looking for evidence to support this idea and start looking for common research in k12 and feedback!
Verena 🙂