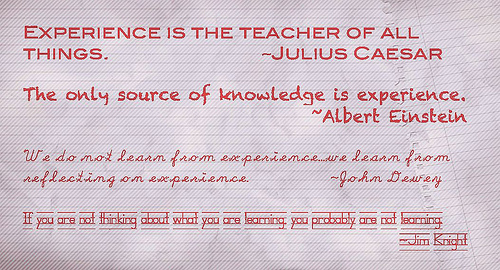 Retrieved from: http://www.flickr.com/photos/mrsdkrebs/8526795288/ with a CC License.
It is back to school time……..
That means starting off the new year with a Professional  Development bang! How can you initiate authentic PD for your staff? I am lucky – I get to start the year with the LEARNQuebec Team.
Next week I am heading to Montreal to learn with the LEARNQuebec team as well as facilitate a workshop and do a short keynote.  I am only "part" of their PD plans – it looks like it will be filled with great learning opportunities for all! I'm so glad to be included in the adventure.
I have been "lurking" the LEARN website pretty consistently for just over a year.  What has impressed me most with their blog is the wide variety of resources, different blogger's perspectives and obvious attempts to push boundaries and consider innovative ways to promote pedagogy in blended and online learning.
Last year I met a few of the LEARNQuebec team at the iNACOL conference in New Orleans.  Two of the teachers were receiving an iNACOL award for innovation, and another two teachers were presenting their research and stories about their ePearl ePortfolio project for k12 learners. Needless to say, I was more than impressed.
The facilitated workshop next week will focus on how to create an online course for new teachers with LEARN Quebec. I wonder what the current team will  include in the course and why?
I sent the following links as possible resources for next week:
1.Creating an Open Classroom
http://ceetopenwiki.wikispaces.com/
2. Hybrid Pedagogy Article:
http://www.hybridpedagogy.com/Journal/file/Unmapping_the_Terrain_of_Digital_Pedagogy.html
The following links and resources are more for exploration, but could be helpful for the workshop.
Online Course Standards
iNACOL National Standards for Quality Online Teaching:
http://www.inacol.org/cms/wp-content/uploads/2013/02/iNACOL_TeachingStandardsv2.pdf
Courses/Communities
Academic Partnership's – Faculty eCommons – Bloom's Digital Taxonomy
https://ap.instructure.com/courses/55912
#OOE13 (CHECK this one out!!!)
http://ooe.wikispaces.com/Home
Mozilla Webmaker
https://plus.google.com/u/0/communities/106022863174952221205
Creating an Open Classroom
https://plus.google.com/u/0/communities/115180098237595328677
Connected Learning:
https://plus.google.com/u/0/communities/113655426574061601680
Online Course Learning Design:
http://www.gillysalmon.com/carpe-diem.html
Online and Blended Pedagogy:
http://www.hybridpedagogy.com/Journal/files/MOOCifying_K-12.html
Great videos:
Scaffolding for online learning/MOOCs
http://moocnewsandreviews.com/scaffolding-for-online-learning-interview-with-gilly-salmon-author-of-e-tivities/
Verena's Resources wiki:
http://openlearningonline.wikispaces.com/
Theory of Online Learning:
http://cde.athabascau.ca/online_book/ch2.html
I am looking forward to learning about how the teachers have considered constructivist learning in their online courses – design and teaching. I am also really interested in their competency based assessment and how to integrate PBL and inquiry based learning more effectively in online and blended course delivery.
Based on the resources, the online course creation workshop will be facilitated using an inquiry based focus, so we will have to see what amazing ideas the team comes up with!
Do any of you have resources or suggestions for the LEARN Quebec PD next week? I look forward to your comments, or tweets @verenanz
This is the storify that is collecting the tweets about next week: Learning with LEARNQuebec
Looking forward to you ideas, links and comments…..
Verena 🙂