We are examining the idea of research around informal learning opportunities this week in my EdD class. My experiences come from cMOOCs, in particular my experiences as learner in #Change11 and #Moocmooc, lead conspirator of #etmooc lead facilitator of #DigiFoot12 #ceetopen and #oclmooc.
In our course, we are using the science domain to demonstrate how the boundary spaces can create a learning community in which "expert" and "novice" knowledge can come together.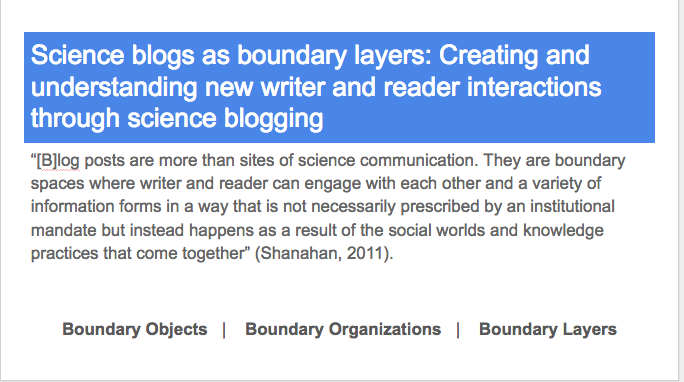 I am looking for examples, writings, storify's, digital artifacts – anything – that would demonstrate how learner agency is supported and the idea of "expert" and "novice" meeting and building knowledge with each other in a learning space.
I understand that the boundary layers and objects referred to in the article are within the context of the historical framework of scientific research – but could you help me with my comparison to informal learning in cMooc environments?
Or am I comparing apples and oranges?
Verena 🙂
References:
Shanahan, M.-C. (2011). Science blogs as boundary layers: Creating and understanding new writer and reader interactions through science blogging. Journalism, 12(7), 903-919.
I apologize for anyone who cannot access this article to refer to.